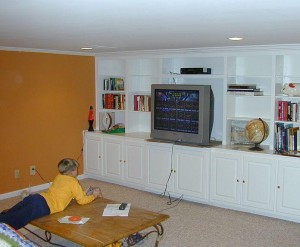 For many years, if people were affluent enough to have a finished basement, it was termed the "rec room" and mostly consisted of paneled walls, a tiled floor, a dropped ceiling with fluorescent lights, and it was filled with furniture or old floor coverings that were relegated down there after being replaced with newer objects upstairs. Some people even divided their basement into separate areas like a laundry room, furnace and utility room, or pantry, with the rest being used for general living space.
Today's basement is multi-functional, and, while the concept of divvying up the basement as a whole to make separate rooms is still a viable option, the look and purpose for those rooms is very different now. Options might be a home office, exercise room, media play area, lounge, second kitchen area, playroom, or even a man cave. All are great ways to utilize the basement.
In planning your new basement and its separate rooms, you might want to consider how much space should cater to your family's hobbies and interests, or whether one room, such as a family room or lounge, will encompass a larger space. If you typically host parties, your lounge-type area would, of course, include a home bar or perhaps a wine cellar. The latter two items are great for resale value. If you have a large family or friends that are scattered to the wind, would you consider creating extra bedrooms and another bathroom? Perhaps you would like to have the ultimate kid-friendly room for your children – well, at least you would know where they are, especially if you fill the room with media activities. If you want to be selfish, wouldn't you love a home gym where you just need to go downstairs and work out to your heart's content?
Not only will separate rooms cater to individual family members, or the family as a whole, but shelving and organization hubs and bins can tame the clutter and keep that new basement looking just as special as your upstairs living areas.
A whole-basement renovation encompasses many factors – furniture is one of them. Furniture can be casual for the most part and over-sized since you now have plenty of room to work with. Renovating a basement opens up a whole new realm for you. But first, before you start considering the various rooms which would make you and your family happy, be sure to consult with a home remodeling expert who can bring it all to fruition for you. Remember, that remodeling the basement, whether it is from scratch, or enhancing an existing finished basement to create different rooms, is not a DIY project, and better left to a professional contractor. There are many options for getting the maximum use from your basement and if you consult with a home remodeling expert in Princeton NJ, I'll bet he or she can come up with a few suggestions you never thought of!
Let's have a look at different ways to remodel your basement to get even more enjoyment out of your home:
Remodeling an unfinished basement
Since this is a cold-weather state, before you make any big renovation plans, you might want to consider insulating your house so that your newly finished basement will be toasty all Winter. Blown-in foam insulation for the entire house is the most-expedient way to insulate your home. Many people prefer to spend time in a finished basement during the Summer to cut down on air conditioning costs. Raise that thermostat, since it is always comfy and cool downstairs and then you can adjust the A/C thermostat to a cooler setting once you're back upstairs and ready for bed.
How would you like the basement walls to look? Will you be installing paneling? Painting the walls? Next, you should consider the floor treatment, i.e. tiling, wood flooring or carpeting in the finished basement.
At this time, you should think about the use of multi-function rooms – how many individual rooms would you like to create and for what size and purpose?
If you are enhancing an already-finished basement …
Like the last item above, if your basement is already finished and you want to create separate rooms within the basement, here is where a professional contractor can be helpful in suggesting types and rooms and how the finished project will look.
Drywall will be used to separate the various living spaces and even windows may be added within the individual rooms if desired. Gone is the painted concrete walls and instead, paint is applied directly to the drywall on the perimeter and separate room walls and stained woodwork trim will be utilized as well. Paint lightens up the basement, instead of the dark paneling wall treatments of yesteryear.
Lighting now consists of pendent lights, rustic-looking fixtures or the more-popular recessed lighting, rather than the fluorescent lights that were de rigueur for finished basements for eons.
Ambiance a'plenty in your redesigned and newly finished basement starts with a free-standing, wall-mounted electric fireplace in the common room or lounge area. What fireplace does not beckon you to spend countless hours basking in the warmth, crowded around the big-screen TV with the family or friends? There are many options of realistic-looking fireplaces that will give a rustic and homey look to your basement and provide warmth on a cold Winter day.
Multi-activity space in the basement now gives the family more time to be together. It need not be just sitting around the TV only, but kids can be in their playroom under the watchful eye of their dad in the nearby exercise room or their mom in the laundry room. This is the beauty of creating multi-activity spaces in or near a common area and how to gain benefits from your home.
Now that these revamping options have piqued your interest, it is time to think in terms of before-and-after pictures, because, with some innovation and renovation to your existing finished basement, all the outdated features will be eliminated, and in its stead is a lighter and brighter basement and enhanced living area. Whatever chaos and catchall conditions existed in the past are history and a beautiful basement living space is yours. The colder weather is on the way and more time will be spent hunkering down in your home. Why not consult a home remodeling expert to spin some magic in your tired old basement today?