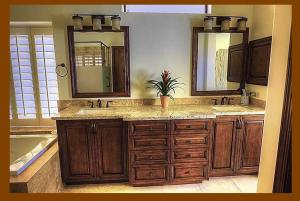 Planning an overhaul of a room can leave you with many options when it comes to bathroom remodeling. To have the most luxurious bathroom around, try to make an easy to read and understand design beforehand, decide what furnishings will get replaced and updated, and how to decide what tile you want to install for the best look around. Following these basic rules will give you an outline of your project and get your ready to execute.
Luxury Bathroom Design
There is nothing you can not pull off that your imagination can think up. You need to think big and extravagant everything. Going down to check out a bathroom showroom in NJ or a local bathroom remodel company will start your mind going in the right direction. Get a sheet of graph paper and take the measurements of your room in every direction. Transcribe your raw data into a scale drawing of the bathroom you wish to work with. From this point you can fill in different areas with wonders of your imagination. Almost any bathroom will include a bath or shower, vanity and sink area, toilet, and some type of flooring, so start with these items and fill in extras when ready.
Luxury Vanity Design
A vanity can be something small and simple with a functional appeal or something that covers half a room with bells and whistles everywhere. Pick a vanity with a mirror, deep sink, plenty of storage space, and that is going to fit in with the material of the shower or bath. Having a good area to prepare for your day after exiting your morning shower can be important.
Luxury Shower Design
Luxury showers come in many shapes and sizes but all have one thing in common, they stand out. Materials for the surface of your luxury shower can range from expensive tiles and acrylic blocks to stone pieces and huge chunks of marble. You can install a pulsating and messaging shower head in the front and back of the shower to make it more comfortable for a couple. A spot can be left for a bench to sit on as well. Beyond just a shower, installing a whirlpool or Jacuzzi will surely make your bathroom more luxurious. Some of these luxury bathroom additions can be done by yourself at home with great results, but hiring a bathroom remodeling contractor could prove to be beneficial. You can build the scene with your imagination and they can bring it to life with their professional know-how.
How to Choose Bathroom Tile
Bathroom tile comes in so many materials and shapes that there is infinite possibilities you can form with it. Color, texture, style, and materials are all important things to know about when it comes to a tile. Since you will be in a possibly wet bathroom, tile that has a slippery surface is a bad choice. Go with something stone. The texture keeps you in contact with the ground. The shapes and designs can be complicated and unique or simple and classic. Choose a smaller sized tile that is non stick or stone to cover the areas of your bathroom where you want tiles. The floor can match the custom shower and the unique vanity.
Upgrading and remodeling your bathroom to turn it into a luxurious and decadent throne room has a few simpler parts you can do at home but save the complicated time consuming work for the professionals. They will do your idea justice and bring the luxury bathroom you have created in your mind, to the real world.