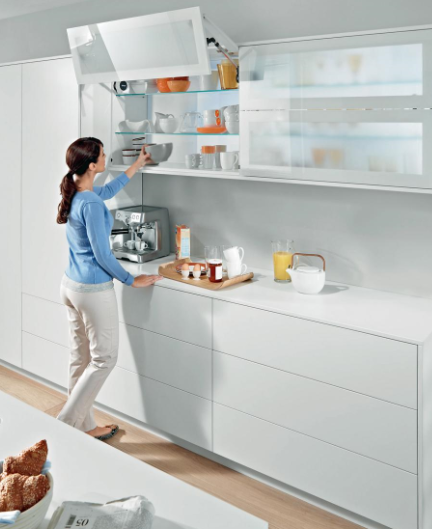 Design trends come and go, which is why you may want to choose to forego some of them when designing or redesigning various rooms in your house. But when it comes to kitchen design trends, it's often best to opt for what's hot and opt out of what's not. Because the latest kitchen design trends often are influenced by current home-buyer preferences, it's a good idea to keep up with the latest kitchen design movements when you're updating or remodeling your kitchen living space. And you're definitely going to want to keep up with 2018's kitchen design trends, as these are some of the most slick and snazzy we've seen in a long time. Top interior designers have searched high and low for this year's (and likely next year's too) hottest trends, and they're about three things: sleekness, serviceability, and style. High functioning smart kitchens, hidden appliances, colorful sinks, bold fixtures, and tuxedo cabinets—these are the year's most sizzling kitchen design trends.

Kitchen design—now that smarts
Smart technology is everywhere these days, and nowhere is it 'smarter' than in your kitchen. Most of us wouldn't mind a little time shaved off our cooking or prep time, which is why smart technology is also wise when its apps are applied to the kitchen. If you're going big this year in a kitchen remodel, you might as well go really big; after all, you won't want to have to re-redesign your kitchen a couple years from now, right? That's why it would be particularly prudent to go for smart kitchen gadgets such as refrigerators that allow you to check their status from your phone or whose cameras give you the option of monitoring their contents remotely. (Imagine making up your shopping list while you're still at work by peeking right into your own fridge!) Smart appliances as well as smaller high tech gadgets that do the work for you—these are perhaps the hottest-of-the-hot trends for 2018.
Appliances—what's essential is invisible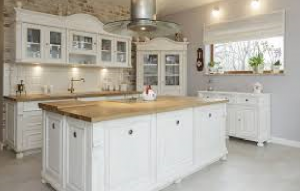 Sleek and streamlined—these are the interior design concepts that not only never go out of style; they're getting hotter by the minute. Face it—kitchen appliances aren't exactly sleek-looking. Sure, some of the designs are pretty—for appliances. But they're not exactly chic pieces of furniture, are they? That's why the idea of 'hidden' appliances was born. Stainless steel has been huge for a long time in the kitchen design game, but its popularity is definitely waning. What's rising in its place is the concept of blending your appliances in with the rest of your kitchen design scheme.
Sinks—color me stylish
Since it was invented, the kitchen sink has been mostly, well, functional. But those days are gone. Today, the kitchen sink can be just as important a kitchen design trend as the cabinets themselves. That's why one of 2017's most popular and whimsical interior design directions for kitchen living spaces is colorful sinks. Lime greens, sassy oranges, soft pastels, rich blues—the options for colorful sinks this year are growing by leaps and bounds, as this trend is topping the list big time for 2018 and likely beyond.
Fixtures—bold and beautiful
Just as sinks are tired of coming in boring old stainless steels or whites, so too are kitchen lighting fixtures discontented with recessing into the walls or ceilings. In fact, they're so over it that this year they're screaming to be bold, bright, and huge! Oversized lighting fixtures are a big bad trend in kitchen design for 2017, and the great thing about this trend is that it won't cost much to add it into your kitchen, and by the time it goes away, you'll be ready for that next hot lighting trend!
Tuxedo cabinets—dressed to the nines
Sleek and stylish to the hilt, tuxedo kitchen cabinets are on fire this year. So named because upper and lower cabinets are two toned, with the uppers being one shade and the lower a darker or vice versa. But make no mistake—though black and white tuxedo cabinets are slick and streamlined for sure, tuxedo cabinets can be any combo of dark and light.
Pun fully intended, this year's kitchen design trends are hot! Whether you're in the market for a complete kitchen remodel, or you're just thinking about an upgrade or two here and there, including any of these spectacular trends into your kitchen living space will revamp not only its look and feel, but its function. From smart technology to hidden appliances to cabinets that look like they've come straight out of a Bond flick, top interior designers have designated these influences as the hottest trends for kitchens in 2018. And your kitchen will too!