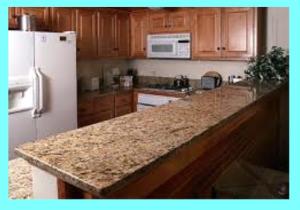 If you are interested in a total kitchen remodeling job, there are a wealth of enhancements to pick and choose from.  If, however, you are just looking for a partial remodeling job for the kitchen, contractors say that one of the most-popular home remodeling projects is replacing old counter tops with more-modern styles.
There are a wide variety of counter tops available and all are sure to meet the expectations of your kitchen style needs.  For example:  a streamlined kitchen needs counters in gleaming steel, where a country kitchen will look just perfect with rustic and durable butcher block counters.  Many people simply prefer a more economical and very durable Formica counter tops because that style served them well for many years.  Below are some of the trending counter top styles today.

Granite or natural stone counters
Perhaps you've coveted a granite counter top for your kitchen based on those gleaming counters advertised on home remodeling websites or in magazines.  A few years ago, the demand for granite counter tops really peaked.  Builders stated that most home owners wanted one as a focal point in their new kitchen.  Even home owners with no intention to have a full kitchen remodeling job done, thought they could revitalize their kitchen simply by getting a real granite counter top.
Unfortunately, a granite counter top is not for everyone, and it is not just the price that is prohibitive.  First, granite is very heavy and not every counter area can accommodate the weight, thus necessitating the added expense of new cabinets to support the heavy granite counter.  Granite also must be maintained occasionally to keep this natural stone looking just as good as the day it was installed.  It requires polishing and buffing to keep the stone shiny and the annual task of resealing the counter top.  But don't despair if you think that coveted granite counter top cannot be obtained for your kitchen.  If cost is an issue, there is quartz which is a similarly durable medium, or faux granite, and, if you do not wish to replace your cabinets at this time, granite may be purchased in thin tiles, thus giving you the granite look without the heartburn of a very expensive do-over.
Though the trend for granite counter tops in the kitchen has waned somewhat, the use of natural stone for counter tops is still a popular choice for homeowners.  In fact, manufacturers have created "knock off" stone counters, some which are so realistic looking that it is difficult to tell the faux counter from the real deal.  A very popular natural medium used today in counter tops is soapstone.  Despite the fact that the major component in soapstone is talc, it is often combined with other stone such as quartz, thus its durability is comparable to granite.  Soapstone is naturally gray in color and unlike stone colors like granite or onyx, it will blend well in any kitchen, however it will darken with age and use.  Like granite, or any stone surface, there is minor maintenance involved such as routine polishing and oiling of the counter top.
State-of-the-art-kitchen
Perhaps your kitchen is full of gleaming silver appliances.  You might want to complement those modern-looking appliances with the addition of counters made of stainless steel.  That look admittedly is not for everyone, but its ease in keeping the counters clean and sanitary, and without the constant maintenance tasks, have many homeowners opting for stainless steel.  After all, look how easy it is to maintain a stainless steel sink – soap and water and a cloth to dry and you are good to go.  But, if you have a clumsy cook in the kitchen, you'd better think twice about using stainless steel because it is prone to dents and scratches and cannot be used as a handy surface for hot pots and pans like you can do with natural stone.
Butcher block counter
If your preference runs more toward a country kitchen, then you will eschew the gleaming counters like stone, stainless steel or even Formica, in favor of the more aesthetic look of butcher block.  If you think that wood counters could never match the durability of natural stone, you would be mistaken, because butcher blocks are made from hardwood such as cherry maple and oak.  These hardwoods, prized for their durability, may be stained with various natural finishes like tung oil, vegetable or mineral oil or varnishes.  Some people like a glossier finish to their wood and utilize paraffin or beeswax.  Whatever method you choose for your hardwood butcher block, you need to maintain the wood accordingly.  To keep tiny dents or scratches from developing into major cracks and crevices, occasionally you must sand these blemishes in the wood with sandpaper, then oil the wood to keep it looking good and maintain the natural luster.
Keep it simple
If you simply need to replace your old counter tops because they are worn, you cannot beat the simple good looks and durability of Formica or similar synthetic materials.  It worked for your Mom, and probably your Grandmother as well.  Maybe you had your Formica counter top for ages and the only fault you could find was a few worn spots.  There is no maintenance involved with Formica.  Paper composite is a modern medium which is comprised of post-consumer recycled paper and fibers bound together with a plastic resin.  It is durable and functional and comes in a wide variety of colors so it is easy to match with any floor treatment or existing furniture, appliances or even wall colors or accessories.
Go ahead and pick your favorite trending counter top option and then contact a contractor in Atherton, California who specializes in kitchen remodeling.  His or her expertise will lend a hand to help you pick the perfect counter top to enhance your kitchen and satisfy any cooking and design desires you might have.