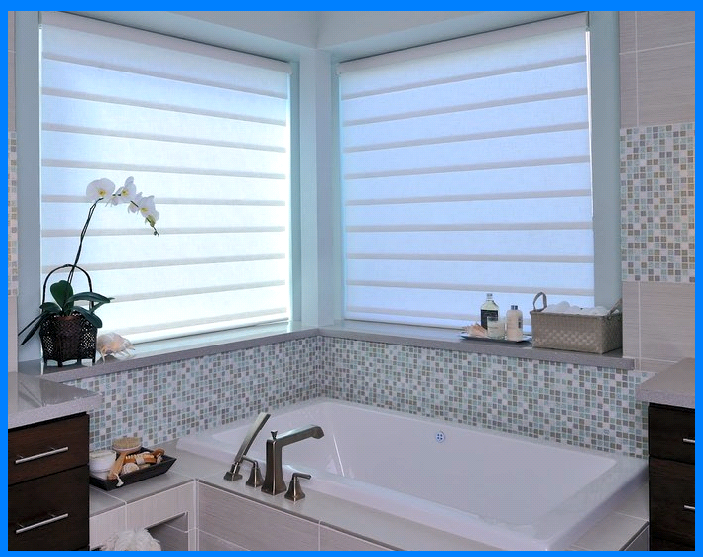 When you are in the bathroom sudsing up or making the face you present to the world picture perfect, the last thing you want to see is someone peering in the window at you.  At least I wouldn't want that, and I'm pretty sure you wouldn't either!
So, how do you improve your privacy in the bathroom, yet still enjoy the natural light that filters into that room?
You could opt for block glass, but then your bathroom décor will surely suffer.
You can even consider exterior shades or blinds which operate at the touch of a button.
But, why go to these extreme measures, when it is so easy to add an elegant touch to the bathroom, yet keep unwanted eyes from peering in, simply through the use of modern window treatments?
Here are some options to keep your bathroom experience limited to just yourself… why not take a look below and see which window treatment appeals to you?
When you find one that suits you and your bathroom décor, contact a contractor who specializes in custom bathroom window treatments in New York City.
Window treatments geared toward privacy
There are a wide variety of shades or blinds that will do the trick.
While Roman shades or blinds are considered one of the most-distinctive ways to enhance any window in the home, they are, however, not recommended for the bathroom.  This is because of the nature of their style – they are much heavier, and the fabric will retain moisture, thus inviting mildew or mold issues down the road.  So, do as the Romans do in your other rooms of the house, but keep it simpler for the bathroom, okay?
All of the options for bathroom window treatments below will work perfectly in any other rooms where you desire either privacy or sun-blocking capabilities.
Trending bathroom blinds and shade options
Roller blinds
Roller blinds are a good standby for an economical and durable bathroom window treatment, since they are usually made of a plastic material which is easy to keep clean and will not be bothered by the often-humid atmosphere in that particular room.  Should you desire, you may purchase roller blinds in blackout styles, perfect for totally obliterating the view of the room from the outside.  Blackout roller blinds generally contain a blocking fabric which allows no light to filter through the blind.  The unique and personal look you choose for your blinds should perfectly pair with your existing bathroom décor.  Of all the blinds available, roller blinds are considered the best choice for preserving your furniture and rugs from the harsh sun as well as helping to protect your modesty in the confines of the bathroom.
Venetian blinds
Hands down, the Venetian blind is touted for its durability as well as its ability to shade the room from the sun or keep the chill from beyond the cold window pane.  They are especially handy for bathrooms that face the street or are on the first floor of a home.  When the slats are pulled up tight by a twist of the hand on the handy plastic wand, they are closed completely, thus your bathroom should be considered 100% impervious to the outside world.  Consider using Venetian blinds in wood or bamboo, or even hard plastic, and try to match the trim in the bathroom, though the blinds themselves are easy to harmonize with absolutely any décor.
Pleated blinds
Though pleated blinds may be lightweight and appear see-through and not up to the task of protecting your privacy in the bathroom, don't let their appearance fool you.  Besides adding texture and dimension to the room in a wide variety of colors sure to match any décor, pleated blinds will provide the ultimate privacy as well, simply by adding privacy or room-darkening liners.   The outside of the shades have a white backing which looks clean and uniform to the rest of the world beyond your bathroom window.
Woven window shades
Here is a shade which will add both style and privacy to your bathroom.  Woven window shades can be an earthy and neutral color which will blend in with nearly any type of design or color you choose.  The woven shades, just like the blinds and shades listed above are available as a more-sheer type of shade for some privacy, but if total privacy is desired, they may have blackout fabric added.
A person skilled in custom window treatments will work with you to pick the perfect window covering for your home.  Why not contact one today?