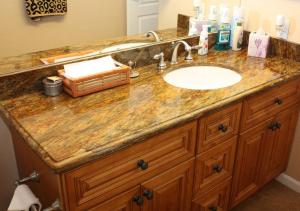 Riddle: What is the smallest room in the house, the busiest every morning, and one of the most-expensive rooms to build when building a home from scratch? Well, unless you looked at the title of this post, would you have guessed the bathroom? It can cost about $10,000.00 or more, just for the bathroom when building a new home.
If you've decided to embark on a campaign to go green, why not start right here in this diminutive room? Then, you can go on to green up the rest of the house. If you're not sure where to begin such a green bathroom remodeling job, it's best to consult an expert in green bathroom remodeling in Phoenix, Arizona. There are several means of going green, from noodling around with the plumbing, to creating new and improved non-noxious fumed bathroom cabinets and their accompanying sinks and countertops. Even eliminating that plastic shower curtain liner will help get rid of those harmful VOC intoxicants lurking right there with you when you step into the shower. (And you thought you were alone!)
Whether you seek to gain energy savings or simply get more eco-friendly, there are several suggestions below.
Eco friendly plumbing ideas
A major remodeling job in the bathroom should involve the installation of more-efficient plumbing equipment such as pipes, fixtures, faucets and showerheads. Perhaps they are old and rusty – maybe they leak. Did you know that one dripping faucet can account for a major portion of your water bill? If you are shaking your head "no way" … well, just two drips per second from one leaking faucet could yield a total of 100 gallons of water loss in one month. But faucets aren't the only culprit using massive amounts of water in the household. There are also:
Toilets which use a whopping ratio of 1/3 of all residential water consumption. Leaking toilets are problematic for high water consumption, just like a leaking faucet. Also, consider the amount of people in the house using the toilet and the total amount of flushes and refilling of the toilet tank, a cycle which uses 1.6 gallons of water each time. The newer high-efficiency toilet, will save the typical family of four some $2,000.00 over the lifetime of the toilet. If you really want to go green in your bathroom, consider using a composting toilet. Composing toilets have improved through the years and are a better option now than years ago, however they are not for everyone. Composing toilets are rather high maintenance since they require little to no water. Composting toilets aid in conserving precious water and energy, reduce water pollution, and they even create garden compost as well. They are often used in rural areas, but in some suburban areas as well. Before you get too infatuated with the idea of composting toilets, you should verify that your City's local building codes permits them.
Faucets and showerheads which comprise another sizable chunk of water usage in your utility bill is from running water from faucets and showerheads. Even without that pesky drip mentioned above, bathroom faucets still account for 15 percent of indoor household water use. A more-efficient bathroom sink faucet is the WaterSense model as it will reduce water flow by 30 percent or more without sacrificing performance. If your faucet is relatively new and in good shape and won't shame you when the rest of the bathroom remodeling job is complete, here's a simple DIY fix to save money. Just buy an aerator (a screw-on tip of the faucet which controls the flow rate of water) and then install the aerator right into the faucet to garner better water efficiency. The newer showerheads have a flow rate of 2.5 gallons of water a minute, so it behooves you to update that shower head to gain a reduction of up 25-60 percent off your water bill, since shower use constitutes 17 percent of your water bill.
New eco friendly features
While you are updating bathroom items for eco-friendly purposes and water conservation, you must not overlook the bathroom "furniture" because a lot of harmful chemicals comprise the typical bathroom vanities or storage cabinets, especially those made from particle board, or fiberboard as it is sometimes called.
Vanities and cabinets in most bathrooms are comprised of fiberboard held together with a formaldehyde-based adhesive. The adhesive is part of the family of VOCs or Volatile Organic Compounds. VOCs are harmful chemicals that have been deemed to cause outdoor smog, in addition to indoor air pollution. The VOC chemicals are contained within the particle fibers of the bathroom furniture and most man-made composite furniture. You can bypass these harmful chemicals by purchasing re-purposed real wood from furniture made from natural certified woods such as bamboo, rather than tropical hardwoods or fiberboard. Even the vanity's countertop and drop-in sink materials may contain harmful VOC pollutants, so strive to buy only building materials created from natural materials or recycled products. It is a win-win for the environment and you in the long run.
Flooring goes green as well if you choose to use reclaimed wood, which is wood from old buildings which has been gleaned by contractors, cleaned up and resold in certain material re-use stores.
There are many ways to go green in the bathroom, and if your main purpose is to be energy wise, that's a smart move on your part. If you are thinking of the long-term benefits for future generations, well … you are to be commended for helping out Mother Earth for more than just on Earth Day.