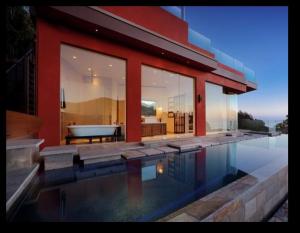 How many times when you were growing up did your parents say "why do you want to look like the rest of the crowd? Be yourself. Be an individualist." When you're a teenager, that's mighty hard to do because you only want to think, act and do like your peers. But suddenly, one day you're all grown up, and you realize you want to stand out from the crowd, not only in your personal style, but also in the manner in which you live. Los Angeles and California, in general, is known for being trendy, so you live in the perfect place to experiment with up-to-the-minute style and funky colors and accents. Do you want to be creative with custom paint colors for your home, but you're somewhat flummoxed where to start?
Add flair to your home
The easiest way to view a palette of colors for the exterior of your home used to be heading down to the aisles of the paint store where you could pick up a pile of paint chips and then go forward. Now, the internet has made it way easier to pick-and-choose custom or unusual colors, even virtually try different hues on for size. The Sherwin-Williams website lets you upload photos of the exterior and interior of your home to experiment with different paint colors: (https://www.sherwin-williams.com/visualizer/).
Durability is important
Bear in mind that with the rays of the sun beating down some 3,000 hours a year, per Wikipedia, it's a good bet that your bright and cheerful house colors will be prone to fading. Most paint manufacturers will warranty the paint job from chipping and peeling paint, but not from natural fading. So, be mindful that on the exterior of your home, though you might want to be bold and brazen with bright hues, that the upkeep for darker colors will require more frequent paintings as opposed to more-neutral colors (with the exception of white, if you want to keep it perfect and pristine looking). Always remember that if you're leaning toward a particular color but are leery that it might be a little over the top for your home (and the neighborhood), you can always seek the counsel of a contractor who specializes in exterior painting in Los Angeles County. Not only will that painting contractor help you pick a coordinated combo of colors, but also will aid you in selecting the perfect paint for its durability and resistance to fading, so your home will be looking good in the neighborhood.
Create the mood for your home
Paint colors traditionally are three types: cool, neutral and warm. Cool colors are light blue, dove gray or silver; neutrals are natural colors like beige and brown; and warm colors are in the ochre or peach family. All are polished and perfect for the year-round warm climate synonymous with L.A. Pastels are pretty and just right for this climate and you can go bold or more subtle – tweak your pastels a bit until you decide which is right for your home. This way you are infusing some dramatic color without going right over the top. Pastels are prone to fading, just like the bold and darker colors, so be prepared for occasional touch-ups to keep things looking fresh.
Here in this sunny clime, the mood is light and the atmosphere is fun so why not keep that bright and sunny theme going with bright colors? Set the mood of sunny days with paint in Bermuda shorts colors – bright pinks and greens or pick a sunny island theme – it does not have to be an American island – think of a picturesque Greek Island, like Santorini – all white with terra cotta and turquoise trims. Aim for bright colors and you cannot go wrong.
Trending these days
Here are some trending colors with their ultra-creative names for exterior paint by some leading manufacturers:
Behr
Try these color combos: Serene Peach/Wine Barrel, Summer Harvest/Royal Liqueur; Campground/English Saddle and Burnt Almond/Spiceberry
Valspar
These colors are outstanding on their own with subdued neutral contrasting colors like gray, black or white: Heirloom Red, Shark Loop, Chocolate Cherry and Secret Moss.
Bright colors
If you're aiming to try something bold and beautiful, you could start out with something a little subdued. Maybe a mellow yellow or even honey mustard yellow combined with a dark brown is simple, and not too "out there". Or perhaps an eclectic color palette – deep burgundy or dark rust, coupled with light-colored wood and/or stone elements can make a bold architectural statement. These are ways to infuse bold color into your home without raising too many eyebrows. You don't have to paint the entire exterior of the house either – maybe a touch of color here and there … a bright touch to the shutters, or the trim, for starters. A great way to add color and create curb appeal is painting your front door a bold color and adding a bright wreath.
Before you throw caution to the wind and fail to show restraint after deciding on some really bright and bold combos, you might want to check with your neighborhood association just to ensure that there is no limitation placed on how far you decide to go with your contemporary color scheme.
Remember to coordinate
No matter what color scheme you pick, some thought should go into coordinating your landscaping as well. Coordinate your exterior paint and your landscaping so that they harmonize and you'll have a chic and stylish home that you'll be proud of for generations to come. You might even want to try accessorizing the front of your home to complement your primary house color with plants placed in ground and/or in planter's boxes, or to coordinate with outside seating arrangements out front or in back. Too many bright colors in the garden, however, might clash and create disharmony, so try not to go overboard out there. Soft and subtle touches of color in a nice mix of annuals and perennials will mesh right in with the colors of your home. Too many colors might make the house look somewhat chaotic. Try some of the newer shades of mulch to add some color in areas where flowers are neutral colored or even sparse. Mulch is available in wood or rubber varieties and will add interest to your front garden as will rust-colored lava rock. River rock or small pebble rocks will add color and depth to your landscaping, too. Even small details like matching your home's address numbers or yard art to complement the home color theme will be eye-catching and add pizzazz.