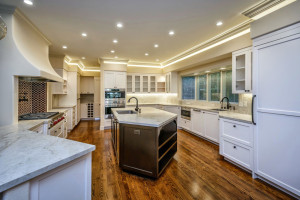 If your favorite weekend activities are hitting the specialty food markets then treating your family to your creative culinary efforts, the kitchen is the go-to room in the house for you. Instead of cozying up with a good book, your nose is buried in a cookbook, and all the while the kids are gathered around asking "how much longer mom?" or "can we help?" But … you shrug your shoulders or shake your head "no". Stop doing that! Start encouraging a special bond between you and your kids via time spent in the kitchen. You know how kids like to emulate their parents – who knows – there might be a budding Guy Fieri or Rachel Ray just waiting to wield a spatula. If you make cooking fun for your kids, they'll never look at any aspect of food preparation as a chore; even clean-up can be hands-on for everyone.
When kids are in the kitchen, there is more involved than just ensuring that no sharp knives are within reach of tiny hands or that small children are kept far enough from bubbling pots and open flames. Your kids love hanging out in the kitchen watching you cook, so why not let your offspring get creative in the kitchen too? No Easy-Bake Oven or pretend stoves or sinks for this young generation. Teach them how to slice and dice. Or, just let them get a little batter-splattered or flour-speckled while whipping up a simple dessert. They'll have a new respect for the kitchen, rather than merely a place to go for popsicles, and they will gain self-confidence as well. Teach your kids to cook now, so they'll be way ahead of their peers when it comes time to leave the nest for college or their first apartment.
Create a perfect child-friendly kitchen
If you have the room and the resources, a contractor who specializes in kitchen remodeling in Cupertino could help to enhance your kitchen so that it is kid friendly. You don't want to worry (or wince) every time little incidents occur, like the inevitable spills or stains, or an oops or two, because that would take the joy away of quality time in the kitchen working alongside your kids.
In the words of Celerie Kemble, the New York City interior designer and mother of three, creating the "Ultimate Kid-Friendly Kitchen" comes down to addressing three basic concepts: organization, participation, and distraction. She says: "you want them to feel like it's their kitchen and they can participate in what you're doing, but you also want your kitchen to look nice and not like a preschool food trough." Below are some of the criteria involved with a renovation of your existing kitchen to a child-friendly kitchen:
The height factor
If you really want to let your kids get some hands-on experience consider getting an island or a work table that is just the right height for kids to help with meal preparation. An island would allow kids to sit on a tall stool to gain access to a flat surface to help with meal preparation. Better still, is a low, sturdy work table which might be more conducive for them working alongside you at their own level. A good height for a workspace for children would be 30 inches. The standard height for countertops is approximately 36 inches, however, the lower cabinet height need not be custom built. Most cabinet lines offer both 30 inch and 34½ inch cabinet boxes. It is also a plus to go for the 30-inch tall cabinet for adults because the lower counter height is ergonomically advantageous for adults as well as for food preparation. As an example, the lower cabinet height is ideal for bending over when kneading dough or rolling pastry dough. Still another bonus: lower cabinets accommodate tall appliances, making it unnecessary to guess when the toasting or blending job is done.
Child Friendly Design
Once you've got a table or sturdy work surface in place, here are a few more pointers. Certain materials should be used in the kitchen because they are more conducive for interaction with little ones. For example, a design consultant may suggest the following:
Countertops – Using engineered stone, (such as the Silestone or Zodiaq brands), will keep countertops in near-pristine condition because the surface resists scratching and staining and is easy to keep clean. While you're at it, choose a soft-color palette for those countertops because it will not show the crumbs, streaks and blobs inevitably left by kids in making or eating their concoctions. Also, try to have no sharp angles on countertops so there is less chance for accidental hard bumps on limbs or the noggin. With kids, it is better to use round tables for the same reason.
Cabinetry – Bottom cabinets are easily accessible for children to reach into, but if space is at a premium in your kitchen, the higher cabinets might require the use of a sturdy stepstool which should be kept handy for this purpose. Kid-friendly finishes on cabinets is more important than style or material. While lighter-toned cabinets tend to show the dirt, they also reflect more natural light and the room appears larger. A darker-stained wood is preferable as it tends to conceal dirt and dents better. Shorter cabinets, perhaps 12 inches in height, will encourage children to feel like they are an integral part of the clean-up team and will thus encourage them to retrieve and put away the kitchen items they utilize for food prep as well. Low cabinets let you store, silverware and tableware so kids can help set the table.
Flooring – The best type of kitchen flooring is linoleum, not only for its shock-absorbing properties when fragile dishes are accidentally dropped, but, anyone standing for long periods of time will favor soft flooring over hard or non-resilient flooring like slate or tile which sometimes cause aching leg muscles.
There was a time not so long ago that moms welcomed easy snacks and meals that kids could prepare in the microwave by themselves. Now, modern fridges dispense ice cubes or ice water and faucets have a separate lever for boiling water which helps kids have their own beverages without mom's intervention. Now is the time to consider that kitchen renovation and help to give your kids an education beyond the three Rs.