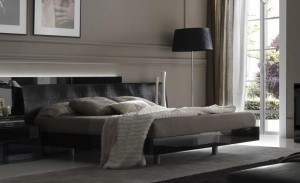 According to the Merriam-Webster Dictionary, the first known use of the word "bedroom" was in the year 1600. The simple definition was "a room furnished with a bed and intended primarily for sleeping" … we've come a long way, haven't we? Modern bedrooms are often a haven for electronic devices, from the largest plasma TVs to the smallest of social media devices. The latter have no business in the bedroom because they emit continuous low lights which wreak havoc with your sleep cycle. It's no secret that our many devices distract us, and, if you choose to use your Smartphone as an alarm clock, well – there it sits, just begging you to check your work and personal e-mail, Twitter or Facebook News Feed one more time before your turn in for the night. Enough already! Banish those devices to another part of the house because you need tech-free ZZZZZZZZZZs so you can totally zone out and let your bedroom be a haven for relaxation. Maybe your current bedroom is sparsely furnished with a few pieces of sturdy furniture and some tired and worn accessories. Close your eyes and just picture a bedroom that you've seen in a home remodeling magazine or on an internet site. You know they all take your breath away. So what's holding you back? You only live once and why not add building the bedroom of your dreams to your bucket list? There are so many innovative trends in bedroom designs today. If you desire to splurge and consider updating your bedroom from a plain room to a pleasure palace, it is as easy as consulting an expert in home remodeling in the Tempe area. Take a deep breath and keep on reading.
Enhance your sleep sanctuary
Here's an analogy for you: think of your home as a pie. Which portion of that pie is the room that you spend the most time in? It would be the bedroom of course, unless you're the type who exists on the barest minimum of shut-eye. You start and end your day in this room. One feature of the bedroom is that you can decorate it to your personal taste and not worry about how strangers view your decorating style, as in a living room or kitchen for example. So, the sky is the limits … create a bedroom that is YOU … chic and sophisticated, modern and trendy, country-inspired, nautical or fun and funky – show your style! Below are some current color suggestions and modern themes to update your bedroom and keep it trendy.
A new paint job
• Take me softly into the night. Experts tell us colors like blue and gray can create a more calming environment. Take that cue from hospital rooms which are subdued or neutral colors. Gray, off-black and off-white are the most popular hues in the palette right now. Beige and tan colors will make your bedroom feel warm and inviting. Don't think of neutral tones as blah and boring because the right accessories will make any neutral-colored bedroom pop.
• Blue is the new hue. Blue seems to be bustin' out all over and a current trend is to have three walls painted a pale blue and one focal or "feature wall" painted in a different and darker color of blue.
• Pastels are still on the palette as well. Pastel bedroom colors have always been in vogue and are still trending today. Lavender and pink colors are tops for a feminine look and pair well with big-flower accessories – the cabbage rose window treatments and matching spreads are a look that is timeless and never grows old.
Bedroom themes
• Chic simplicity. The most-popular bedroom trend is for simple lines with no clutter, just well-designed spaces for sleeping and relaxing with white or pale gray tones. The wall colors and accessories are all light and airy with a minimal feel. Sheer curtains let in natural light, and the addition of a mirror will help make your room even brighter.
• Naturalistic. Natural tones, wood features and even the addition of metal, stone and brick to the decorating equation is trending this year. The uses of simple millwork, like natural tongue and groove wooden panels, or natural materials are features that leap out at you and are pleasing to the eye.
• The romantic look. Little girl frills and froufrou are out, but big girl sophistication is a look that wows and gives warmth to your bedroom. A charming, four-posted bed and a homemade quilt look oh-so inviting and add a touch of romance and enchantment as well.
• Rustic and comfortable. You can create a rustic, yet classy look with tartan plaid. Trending now is the use of various tartan plaids in one room, by mixing and matching them in your accessories like bedspread and window treatments. You must also include a mad-about-plaid, comfy easy chair with a comforter slung casually over the back. Rugged natural pieces like driftwood accents complete the concept. Who says sophistication and relaxation can't go hand in hand?
• Nautical but nice. Another trending design is the beach retreat bedroom or cottage bedroom. Use a combo of different shades of blue and stark white, a starfish here and there and nautical-inspired wallpaper. Nothing speaks of summer like a nautical theme. Yes, life is a beach, even in your bedroom.
• Easy and breezy. A white-walled room, with white accessories is used as a neutral base and silver nail head trim on an upholstered headboard adds sparkle to the monochromatic theme. A colorful, island-themed painting is whimsical along with brightly colored pillows strewn about which adds vibrant color and punches up the all-white look
Furnishings
We often borrow from faraway places to get the trendiest looks for our home. Since clean lines and simple chic are the current trend, why not use a Danish bed as your focal point of the room? A large room is the best way to appreciate the full beauty of a Danish bed and the rest of the room should be uncluttered and minimal décor so as not to detract from this beautiful piece of furniture. Moroccan accents continue the concept of using ethnic prints, prized for their unique patterns and designs. The fabrics can be used for virtually every part of the room, not just the bed and curtains, but canvas prints or upholstery coverings. The Tuscan style for bedrooms is still popular and features dark-toned hues and black furniture and notably a black canopy bed.
Hang onto the traditional looks
If none of the styles and trends above appeal to your senses, you can always opt for timeless elegance for your room … a look that will never need revamping and will never go out of style, just like your little black dress or navy blue blazer and khakis. These options include a chandelier, canopy bed with side curtain or quilted armchairs.
If you are amenable to modernizing your bedroom, see a home remodeling specialist in Tempe – they will get an "A" for effort and you will soon be saying "ahhhhhhhhh, why didn't I do this sooner?"