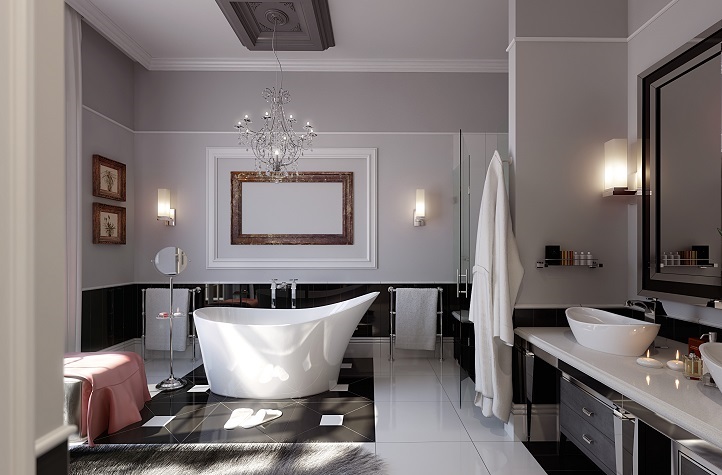 People used to call the bathroom 'the necessary,' and that's pretty much what bathroom design was–mostly that which was essential, useful, functional. To put it candidly, folks did what was obligatory and left the bathroom behind until next time. But those days are gone, as bathroom design trends have been upgraded and updated, with entire themes being designed around the idea that bathrooms should be a living space that offers a chance to wind down from the day, gather thoughts, get back to nature, relax, and spend just a little more time enjoying life. And this year's biggest and best bathroom design trends are all about relaxation, serenity, and adding some pleasure and ease to your hectic life. Here are some of the top ideas and most popular movements in bathroom design trend for 2017 from bathroom remodeling contractors near you.
Ultra modern
You've been seeing it everywhere–words that used to mean extreme recently have been amped up, as their subject matter now goes above and beyond what used to be utmost. Mega, uber, and ultra are now the norm in many areas, and bathroom design trends are at the top of the list for 2017. Modern isn't good enough anymore; today what's trending big-time is ultra modern. His-and-her side-by-side showers top the list of uber contemporary functionality that upgrades the bathroom to a luxurious living space that adds time to your day and ease to your life. Another huge trend this year is the doorless shower, included in many recent articles as one of 2017's most sought-after homebuyer preferences.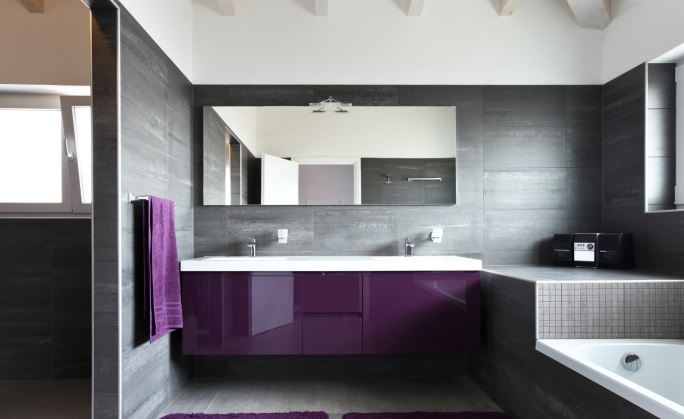 Retro for today
Might seem like a contradiction–both retro and ultra modern showing up among the top bathroom design trends in the same year. But that's the way it is, as bathroom design choices are as vast and varied as the people seeking them. This year, vintage is making a comeback big-time. Just like in so many other areas of life–television shows, movies, and fashion–retro is in when it comes to bathroom fixtures. But when it comes to these retro bathroom design trends, there is one important difference–the idea today is yesterday's designs fused with today's functionality. For instance, vintage lighting fixtures that reminisce of simpler times are illuminating with modern fixtures that truly make life simple. Another big trend is the vintage feel of the elegantly designed clawfoot bathtub, but with a modern twist that allow smart access from any other room of the house or even from outside of it.
Nature-inspired
When you think of the bathroom, you probably don't think of being outdoors. But you'll likely think again when you encounter all the splendor of the nature-inspired bathroom design trends for 2017. Rustic elements such as exposed copper pipes and exposed brick are huge this year, as homeowners are seeking out ways to get back to nature in every way possible. Another important trend for 2017's bathroom designs is terracotta, useful in the bathroom in so many fixtures and accents.
Color trends
Color trends in nearly all design areas this year are about more–more color, more boldness, more feeling. And when comes to colors for bathroom design trends, one of the most popular and significant trends of the year is color inspired by darkness. The color trends for 2017's bathrooms have been influenced by mystery, moody, and midnight. In fact, in just about every area of the house, the night-fall color trend is taking over, and nowhere is it being utilized more skillfully and substantially than in the romanticization of bathroom design.
The bathroom design trends for 2017 and likely beyond are about combining elements that make for more beauty, more functionality, and more sustainability–from dark and moody color trends that inspire passion and relaxation, to nature-inspired beauty that brings the majesty of the outdoors indoors, to the paradoxical combo of ultra modern and retro-inspired decor that is meant to both recall yesterday's simplicity but rejuvenate with today's convenience. If you're looking for more ideas for your next bathroom remodel, consult with a bathroom remodeling contractor near you whose expertise and suggestions will enable you to create the bathroom living space of your dreams.